European Union 2019 – Source : EP
Giuseppe "Giosi" Ferrandino, Member of the European Parliament, has joined the European Democratic Party as an individual member.
His application was unanimously approved this week by the members of the party presidency and congress. The party now has 13 MEPs as members.
Serving in the European Parliament since 2018 and elected in 2019, Giuseppe Ferrandino is part of the Renew Europe group and the Renew Italy (Azione & Italia Viva) project. He is a strong advocate of renewable energy solutions for Europe, maritime issues such as fisheries, and a strong supporter of a strong, fully democratic and self-sufficient Europe.
Commenting on Giuseppe Ferrandino's membership, Sandro Gozi, Secretary General of the EDL, said, "Giuseppe has committed himself to our cause of strengthening European parties, giving them the space they deserve to strengthen European democracy."
Ferrandino said, "European Democrats are working tirelessly to protect European values, pushing for reform under a broad tent on which the European Union was founded."
About Giuseppe Ferrandino: Member of the ECON Committee, passionate about the environment, fisheries and transport
Known in his native Italy as "Giosi", Giuseppe Ferrandino sits on the Economic and Monetary Affairs Committee (ECON). He also sits as a substitute on the Committee on the Environment, Public Health and Food Safety (ENVI), the Committee on Transport and Tourism (TRAN) and the Committee on Fisheries (PECH). As a substitute for the delegation to the Euro-Latin American Parliamentary Assembly (DLAT), he served for the first time in this assembly after succeeding Gianni Pittella in April 2018. He was Mayor of Casamicciola from 2002 to 2007 before accepting the candidacy for Mayor of Ischia, where he served from 2007 to 2017. During this period, he also became a councilor of the province of Naples from 2009 to 2014. He was born on the Italian island of Ischia, off the coast of Naples.
Giuseppe
Ferrandino
.
Italy
Azione
On Tuesday 9th May 2023, the Democratic Movement and the European Democratic Party celebrated Europe Day in Strasbourg, European capital, with many European personalities.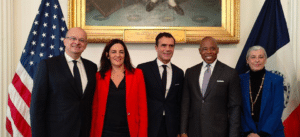 EDP delegation visit to United States concluded on 18 November. The mission was led by party Secretary General Sandro Gozi with fellow MEPs Brunet, Farreng and Grudler.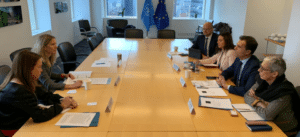 EDP delegation meets with Sarah Hendriks, Director of the Policy, Programme and Intergovernmental Division of UN Women.