EDP member MEPs made inroads on a host of policy areas at last week's European Parliament plenary. Members provided their support for elements of the State of the Union address by European Commission President Ursula von der Leyen as well as driving key legislation around energy, fisheries, deforestation and minimum income and better support to tackle forest fires. The party also took part in debate on the need for a genuine political parties to build a stronger EU-wide democracy.
Gozi: Democracy cannot function without functioning political parties and movements
European Parliamentarian Sandro Gozi said during last week's plenary debate stated the need for a European democracy that cannot be limited to 27 separate political spaces. During debate on European political parties and foundation, the EDP Secretary General argued that the democratic system in Europe must be based on "genuine European political parties" and must be built up in a "transnational political space". Gozi pointed out that European political parties must become "real parties and be able to engage in real politics." The parliamentary debate focused on the report Statute and funding of European political parties and European political foundations produced in the parliament's Committee on Constitutional Affairs (AFCO). Gozi addressed proposed rule changes to construct European parties to boost party credibility and political responsibility. Those include a call for European political parties, such as EDP, to be granted the right to part in national referenda when it affects the EU project. Commenting on challenges for European political parties, he noted: "It is absurd, for example, that a European party cannot take part in a debate in a national referendum which concerns the future of the Union, such as Brexit. He also stated a need for further budgetary autonomy and "impose more transparency." This also links to the demands of citizens at the Conference on the Future of Europe.
State of the Union: Energy crisis sparks emergency measures
EDP members gave the nod on measures proposed by Ursula von der Leyen's last Wednesday on the energy crisis. Main elements of the proposal, supported by EDP and taken up along with partners for some time, include a big-picture vision for more EU energy strategic autonomy. Relatedly, EDP backs her call for EU support for Ukraine with sanction tweaks applied to Russia and efforts for more EU energy independence. She tabled a policy to place a ceiling on energy prices and ensure social justice by calling for a historical give-back of windfall profits gained by fossil fuel producers. Some 140 billion euros collected can help households, businesses and speed up renewables investment. EDP Members broadly supported points made on addressing the Ukraine crisis.
German MEP Engin Eroglu (Freie Wähler) welcomed the determination of President Von Der Leyen, who said in a tweet his backing EU commitment to help "our neighbours against Putin's war of aggression."
French MEP Catherine Chabaud (France) expressed in a tweet the need for "Solidarity with Ukraine".
In the Committee of Regions, EDP member and Renew Europe at the Committee of Regions President François Decoster (Mouvement Démocrate) sees a Union standing strong together: "Make no mistake about our plan: our resolve to support Ukraine will not wither nor fade. When our democracies and markets are under fire, with millions of citizens in need of support, we don't go for the quick fix but for consistent, structural change. The panels central to the Conference on the Future of Europe, which brings citizens, strengthens our democracies; our actions to shelter Ukrainian refugees and help their children in terms of education and health mostly at the local level, are just two examples of our solidarity. They are signs of what a vibrant union can achieve together, once rallied around a common ideal."
Renewable energies: Hitting climate objectives, faster transition
MEPs voted also on last Tuesday for the revision of the Renewable Energy Directive , or "RED". The directive aim looks to deploy these energies as quickly as possible by acting, for example, to slash wait times to obtain permits. Driven by Christophe Grudler within the EDP delegation, and shadow rapporteur for the Renew Europe group, RED will raise the share of renewable energies in consumption to 45% by 2030 electricity from the European Union.
French MEP Christophe Grudler (Mouvement Démocrate) of EDP, part of the Renew Europe Group in parliament, served as a RED shadow rapporteur within the Renew Group. He commented: "Europe needs cost-efficient renewables! The overall results of directive revision will ensure a quicker energy transition through ambitious but achievable targets. The war in Ukraine puts even more pressure on us to intensify the deployment of renewable energy, to shift away from Russian products and reinforce our energy autonomy. And Renew Europe is committed to deliver." Read more.
The plenary in Strasbourg endorsed to revise the RED to spur a faster energy shift in Europe. The final compromise foresees a reference to demand-flexibility measures, in addition to a specific 5% target for innovative renewable energy technologies, notably to safeguard the Union's industrial competitiveness. The directive forms part of the flagship initiatives to meet Union energy and climate targets by securing at least 45% of renewables in the overall energy mix by decade's end. It also drives energy system join-up and sustainability criteria for bioenergy – in line with the European Commission Repower EU plan.
Energy efficiency: Directive recast helps progress work towards climate neutrality
Italian MEP Nicola Danti (Italia Viva) helped drive efforts that lead to the parliament backing today the recast the Energy Efficiency Directive (EED). The favourable vote moves Europe towards a sea change in how it tackles energy use by households, industry, and the public sector. Read more.
The EED framework includes the Fit for 55 package to ensure EU progress towards climate neutrality by 2050, which aims at reducing overall energy use, slashing emissions and tackling energy poverty. Lower energy use by 40% in 2030 across the EU (compared to 2007), as outlined in Fit for 55, presents a clear path to cut greenhouse gas emissions, temper the urge to import energy, and lower costs for households and overall economy alike. A pressing need exists to drive further energy efficiency while ensuring a smooth transition for jobs and growth-producing small- and medium-sized firms and industries.
A Renew Europe Vice-President and ITRE shadow rapporteur, Danti commented: "The cheapest energy is the energy we don't use. Our main challenge is to increase the efficiency and sustainability of our economy and, at the same time, stimulate our growth. Everyone can to do their part: citizens, industries, and the public sector."
No more 'deforestation' imports.
New Forest Strategy adopted MEPs adopted a major text, the first law in the world prohibiting the import of products resulting from deforestation in the Union European.
The law stipulates that proof must be presented that goods produced did not cause deforestation. Products covered under the rule include coffee, cocoa, soybeans, leather, corn, palm oil, wood and beef. On top of products, the legislation also extends to financial services to avoid financing of related deforestation. EDP's French members joined the L'Europe Ensemble delegation in passing this crucial rule, which came out of the Parliamentary Environment Committee (ENVI). The rule can not only minimise the risk of global deforestation and forest degradation linked to with products placed on the EU market, but also the export from the Union products connected to deforestation and forest degradation. It does this by imposing on operators and traders a duty of due diligence throughout the supply chain. The legislation matters because European consumers account for 17% of tropical deforestation linked to internationally traded commodities such as meat, palm oil, soy, coffee and cocoa.
Commenting on the result, EDP MEP Catherine Chabaud (Mouvement Démocrate) tweeted immediately after the vote : "Stronger together (EU). Our vote on imported deforestation illustrates the positive impact we can have as European citizens. May we do the same to preserve the ocean and turn the EU towards the sea."
Relatedly, a New EU Forest Strategy for 2030 was adopted in the parliament plenary session on the same day. A monumental win for EDP Executive Vice-President and MEP Ulrike Müller, she served as the parliament's rapporteur for the strategy. The Tuesday vote in the European Parliament plenary was 417 votes in favour to 144 against with 67 abstentions for the resolution on "A New EU Forest Strategy for 2030 – Sustainable Forest Management in Europe". Take an inside look.
Minimum wage: Trialogue agreement signed off
The Parliament signed off Wednesday a trialogue agreement on EU minimum wages, obtained under the French Presidency of the Council of the European Union. Defended by EDP Sylvie Brunet, the text will raise the EU general standard of living and lessen competition between European workers. A highly concrete agreement for a social Europe that we have been defending since our election and which comes complete, in particular, the directive on posted workers.
Five billion euros for Ukraine
MEPs voted on Thursday for macro-financial aid of 5 billion euros. Supported by Marie-Pierre Vedrenne for the L'Europe Ensemble delegation, this aid will enable Ukraine to cover its urgent financing needs caused by the war.
Better prepared to fight fires: Help on the way
Irène Tolleret defended a resolution on the consequences of drought, fires and other extreme weather events. While the European Union will have to redouble its efforts to combat climate change, this resolution makes a number of proposals to better prevent fires in the EU and help the firefighters.
EU-Mauritius fisheries protocol extended for six months
EU vessels will be allowed to continue fishing in the Mauritian waters for tuna for additional six months under the same conditions. The European Parliament gave its consent to the extension of the EU-Mauritius fisheries protocol which ensures the EU fleet can continue fishing operations in the waters of Mauritius for another six months. Continuation of the agreement should not only provide access to Mauritius fisheries resources for EU vessels from France, Italy, Portugal and Spain, but also to strengthen cooperation between the EU and Mauritius in the area of sustainable fisheries policy.
Following the plenary vote, EDP MEP and Rapporteur Izaskun Bilbao Barandica (Basque country) said: "This extension allows this fisheries agreement to remain in force until the new one, which has already been negotiated, is finalised. The EU exploits all its fishing opportunities there and has boosted the local industry through the purchase of 50 new small-scale fishing vessels. It has also helped to improve monitoring, control and surveillance, scientific research and support for national fisheries management. The archipelago's canning industry employs more than 4,000 people. Of these, 64% are women. This agreement strengthens a strategic partner for the creation of alliances and the positioning of the EU in the region and, in particular, in the Indian Ocean Tuna Commission."
Catherine
Chabaud
Individual member
France
Christophe
Grudler
.
France
MoDem
Engin
Eroglu
Member of the Presidency
Germany
Freie Wähler
François
Decoster
...
France | MoDem
Irène
Tolleret
Individual member
France
Izaskun
Bilbao Barandica
Member of the Presidency
Basque Country
EAJ-PNV
Nicola
Danti
Member of the Presidency
Italy
Italia Viva
Sandro
Gozi
Secretary General
France
Sylvie
Brunet
Member of the Presidency
France
MoDem
Ulrike
Müller
Executive Vice President
Germany
Freie Wähler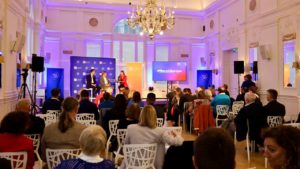 On Tuesday 9th May 2023, the Democratic Movement and the European Democratic Party celebrated Europe Day in Strasbourg, European capital, with many European personalities.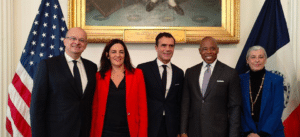 EDP delegation visit to United States concluded on 18 November. The mission was led by party Secretary General Sandro Gozi with fellow MEPs Brunet, Farreng and Grudler.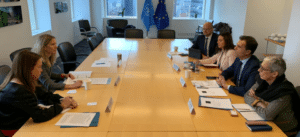 EDP delegation meets with Sarah Hendriks, Director of the Policy, Programme and Intergovernmental Division of UN Women.