Max Orville, French MEP (MoDem), was the guest of Politik Peyi on 1ère Outremer to talk about the role of MEPs and the European Union's action overseas. Watch his interview.
Answering the question "What is an MEP?", Max Orville explains his day-to-day role: "The MEP drafts European law. That is to say, you don't address the citizens directly but the states, to the 27 countries of the European Union."
For his part, the MEP recalled his commitment to building a more social Europe, and to ensuring that European policies are applicable in practice in the overseas and outermost regions in view of their specificities.
Reacting to a street interview on Europe's actions, Max Orville recalled:
Citizens' statements illustrate the need to communicate more about European issues and struggles to raise awareness: "The low turnout figures prove people's lack of interest in elections they do not understand."
Fighting since the beginning of his mandate to demonstrate the importance of the European institutions, Max Orville declared: "Europe is not only a financial counter, it is also values", values that are sometimes threatened by other state powers. 
The MEP said he would continue to fight to defend the European Union, its battles and its values: "Look at what is happening in Brussels and Strasbourg, because what is happening there concerns you directly."
From 22 to 23 June 2023, the European Democratic Party (EDP) organised a conference in Martinique on "Overseas Solutions" with its MEP Max Orville. EDP Chairman François Bayrou and Secretary-General Sandro Gozi opened the conference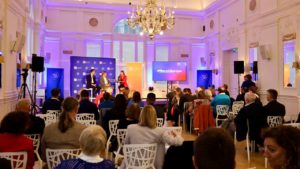 On Tuesday 9th May 2023, the Democratic Movement and the European Democratic Party celebrated Europe Day in Strasbourg, European capital, with many European personalities.
Solutions for the Overseas Territories 21-23 June in Martinique