Today's meeting provided a better understanding of international efforts to achieve gender equality, empowerment and the full enjoyment of human rights for women. We applaud the work of the United Nations in promoting gender equality and women's empowerment.
Their work is more important than ever. Europe also plays a leading role in women's rights. We continue to fight to enshrine in law gender equality in access to employment as well as equal pay.
Sylvie Brunet, Renew Europe group vice president and vice coordinator of the Committee on Employment and Social Affairs, said: "Meeting Mrs. Hendriks is important because UN Women wants to protect the rights of women and girls in the world. These rights are under attack, including in the US where abortion rights are being rolled back.
"The EDP is committed to women, not only to ensure their equal access to education, the labour market, and political participation; but also to assist them in the fight against gender-based and sexual violence and the protection and promotion of sexual and reproductive rights and health."
Christophe
Grudler
.
France
MoDem
Laurence
Farreng
.
France
MoDem
Sandro
Gozi
Secretary General
France
Sylvie
Brunet
Member of the Presidency
France
MoDem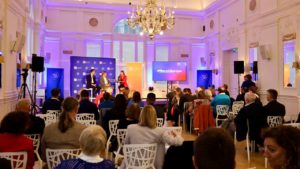 On Tuesday 9th May 2023, the Democratic Movement and the European Democratic Party celebrated Europe Day in Strasbourg, European capital, with many European personalities.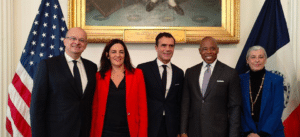 EDP delegation visit to United States concluded on 18 November. The mission was led by party Secretary General Sandro Gozi with fellow MEPs Brunet, Farreng and Grudler.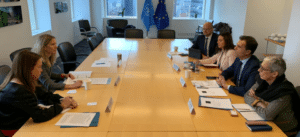 EDP delegation meets with Sarah Hendriks, Director of the Policy, Programme and Intergovernmental Division of UN Women.

Foreign policy and security