On Tuesday 9th May 2023, the Democratic Movement and the European Democratic Party celebrated Europe Day in Strasbourg, European capital, with many European personalities. During this event which was attended by more than 150 participants, the European Democratic Party gathered its MEPs, political personalities of various nationalities such as Maud Gatel, secretary general of MoDem, Stéphane Séjourné, president of Renew Europe and Secretary General of Renaissance or Guy Verhofstadt, former Belgian Prime Minister. Under the slogan Merci l'Europe, the evening highlighted the achievements of the European Union. 
EDP MEPs Sylvie Brunet, Catherine Chabaud, Laurence Farreng, Christophe Grudler, Max Orville, Marie-Pierre Vedrenne, Izaskun Bilbao Barandica presented some of their achievements over the past four years. Noting that the European Union had become more assertive in the last few years, the MEPs illustrated the advances they secured on many topics such as social Europe, strategic autonomy, education and culture, trade interests, maritime-related issues and the outermost territories.
Sandro Gozi, Secretary General of the European Democratic Party, insisted on the usefulness and necessity of the European Union in the life of each European citizen. Together with Maud Gatel and Guy Verhofstadt, the EDP called for further European integration based on democracy, justice and equality, an integration that is all the more essential with the return of war in Europe and the rise of populism. Also attending the event, Geneviève Darrieussecq, Minister for People with Disabilities, insisted on the importance of Europe in developing projects in all territories, notably through structural funds. This Europe Day was also an opportunity to discuss the major perspectives established by the 102 MEPs of the Renew group in the European Parliament, 12 of which are members of the European Democratic Party – one year before the European elections in 2024.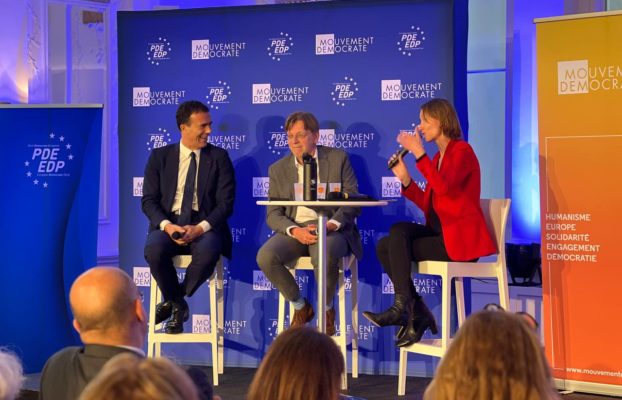 Stéphane Séjourné, President of the Renew group and Secretary General of Renaissance, concluded the event by insisting on the need to pursue European integration also in times of crisis. Political voluntarism must drive Europe forward outside of crises. This dynamic is also carried by your elected representatives.
Sandro
Gozi
Secretary General
France
Laurence
Farreng
.
France
MoDem
Marie-Pierre
Vedrenne
.
France
MoDem
Christophe
Grudler
.
France
MoDem
Catherine
Chabaud
Individual member
France
Sylvie
Brunet
Member of the Presidency
France
MoDem
Izaskun
Bilbao Barandica
Member of the Presidency
Basque Country
EAJ-PNV