The European Democratic Party concluded this year's visit to the United States on 18 November. A delegation led by EDP Secretary General Sandro Gozi included MEPs Sylvie Brunet, Laurence Farreng and Christophe Grudler. Some 30 meetings were held between 14 and 18 November 2022 with US policy makers, UN officials, the US Democratic Party and political experts
These meetings strengthened the EDP relationship with Democrats – both in New York and in Washington – reaffirmed our commitment to multilateralism through the United Nations, linked with progressive in Washington-based think tanks, and continued to build relationships within the U.S. Congress. The outgrowth of these meetings will include events and initiatives planned for 2023 and beyond.
The trip began in New York City, to meet with Mayor Eric Adams. A statement from the POE after the meeting said, "America's greatest city will remain vibrant, safe and forward-looking thanks to the work of Mayor Eric Adams and his team."
Head of Delegation and EDP Secretary General Sandro Gozi commented, "We are impressed with the work done by Mayor Eric Adams and his team. They have a strong approach to building a sustainable, safe and inclusive New York while harnessing digitalization. They understand the far-reaching challenges around cybersecurity and the green transition at the center of the political agenda on both sides of the Atlantic."
The delegation invited Mayor Eric Adams to the European Parliament. A meeting followed later in the day with experts on smart cities, energy transition financing and digital transition frameworks at the World Economic Forum.
Exchange with UN Women
The delegation met on 15 November with UN officials, including UN bodies, UNESCO and UN Women. Des responsables tels que Sarah Hendriks, d'ONU Femmes, ont rencontré la délégation, apportant un éclairage supplémentaire sur les efforts déployés au niveau international pour que les femmes parviennent à l'égalité des sexes, à l'autonomisation et à la pleine jouissance de leurs droits humains.. The PDE applauded the work of UN Women for gender equality and women's empowerment. Earlier in the day, they also met with the heads of the French and European Union delegations to the UN.
Sandro Gozi speaks at the World Affairs Councils of America 2022 National Conference.
Sandro Gozi spoke on "Revitalizing Europe: Forging New Relationships for a Stable Global Order" to an audience of 150 members of the World Affairs Councils of America (WACA) network at their annual national conference in Washington, DC. Sandro Gozi shared his thoughts on the future of democracy, the rule of law, and the need for Europe to not just be a "value" power or have "soft" power, but to have "firepower." In this new world disorder, facing new global challenges, Europe must become a power, building European sovereignty. This includes the military, digital, industrial and energy fronts.
Meetings on Capitol Hill with think tanks, foundations
The November 16-18 visit to Washington included a meeting with U.S. Democrats at the congressional, party and think tank levels. The delegation built on ties established in November 2021. Senior officials from the US Democratic Party – the Democratic National Committee – met with the delegation, as did Congressmen Abigail Spanberger, Bobby Scott and Don Beyer.
The PDE delegation also took part in a Legislators' Forum on Innovations in Democracy at the United States Capitol. It focused on sharing practices, particularly citizen engagement around the world. They were joined by legislators from the United States, Brazil, Argentina, Greece and the United Kingdom.
Meetings with think tanks were held in the U.S. capital to exchange ideas and plan future projects. Members of the POE delegation met with the Progressive Policy Institute (PPI) team, including PPI President Will Marshall and Congressmen Brendan Boyle and Jim Costa.. They also met with the Center for American Progress, National Democratic Institute, National Endowment for Democracy and the Atlantic Council.
Sandro
Gozi
Secretary General
France
Christophe
Grudler
.
France
MoDem
Laurence
Farreng
.
France
MoDem
Sylvie
Brunet
Member of the Presidency
France
MoDem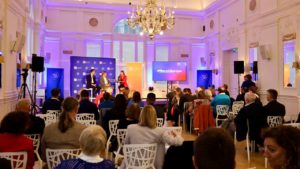 On Tuesday 9th May 2023, the Democratic Movement and the European Democratic Party celebrated Europe Day in Strasbourg, European capital, with many European personalities.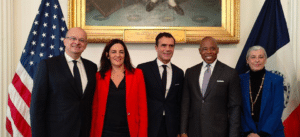 EDP delegation visit to United States concluded on 18 November. The mission was led by party Secretary General Sandro Gozi with fellow MEPs Brunet, Farreng and Grudler.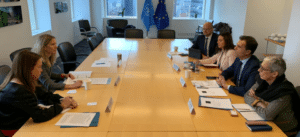 EDP delegation meets with Sarah Hendriks, Director of the Policy, Programme and Intergovernmental Division of UN Women.

Foreign policy and security