The European Democrats welcome the inter-institutional agreement on establishing a Social Climate Fund, one of the centrepieces of the Fit for 55 package. The Fund will amount to 86.7 billion and will run for five years from 2027 onwards, with the possibility of one-year frontloading. It will provide funding to Member States in order to support the most vulnerable households, transport users and micro-enterprises faced with higher energy and transport costs expected to result from the extension of the Emission Trading System (ETS)  to two new sectors, namely that of buildings and road transport. Concrete measures such as direct income support or long-term investments to reduce reliance on fossil fuels through increasing the energy efficiency of buildings, decarbonisation of heating and cooling of buildings, or providing better access to zero and low-emission mobility will be covered by this Fund.
During the negotiations, Our European Parliament group Renew Europe advocated for an ambitious and efficient Fund targeted to those who need it most, ensuring that vulnerable citizens can benefit from direct payments from the Fund as long as they can also benefit from long-term investments, thus helping to reduce energy and transport poverty. Likewise, our group pushed for securing that the disbursement of the EU money is linked to robust policy frameworks at the national level, including the proper implementation of the new Emission Trading System, and to a strong and transparent monitoring system at the EU level.
French MEP Marie-Pierre Vedrenne (Mouvement Démocrate), Renew Europe shadow rapporteur on the Social Climate Fund on behalf of the European Parliament's Committee on Employment and Social Affairs (EMPL), declared: "The agreement reached on the Social Climate Fund and the reform of the carbon market is historic. The European Union has been able to adapt the instruments at its disposal to achieve its climate ambition, while responding to the needs of its citizens who are affected by energy and transport poverty. Europe is keeping its promise: the climate transition will be fair, social and will leave no one behind!".
Marie-Pierre
Vedrenne
.
France
MoDem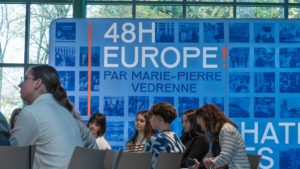 The event focused on parliamentary simulations, offering middle and high school students an immersive experience in the working field of European politics. These simulations, planned by the Breizh France Finistère association, have been designed to be both educational and engaging. They allowed the young participants to slip into the shoes of MEPs, debating and making decisions on current European issues.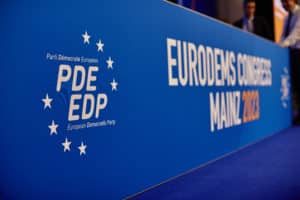 The European Democratic Party held an insightful Congress on the 13th of October 2023, in the historic city of Mainz, Germany. Not only did delegations from Germany, Italy, France, Spain, Austria, Poland, Czech Republic, Bulgaria and many other countries have come together to attend this important event, but it also served as a breeding ground for fundamental debates and innovative proposals that address the pressing issues of our era.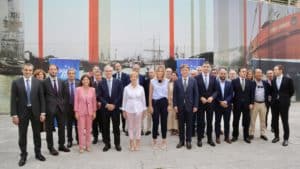 The roadmap to a sustainable future in Europe has never been clearer nor more urgent" – as highlighted in a recent seminar organized by the European Democratic Party (EDP), in which European experts and prominent representatives of Basque industry and business have participated.